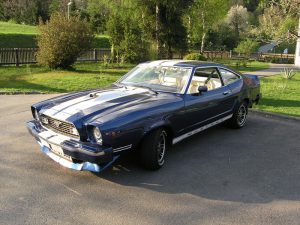 When I was in high school, I had a friend who's mom had a Ford mustang convertible that she could take out late at night and drive with the top down. It was aqua-green with white leather seats, and a CD player in the dash (back when that was a premium feature). She'd pick up our friends with one hand on the wheel and a Marlboro Light in between her fingers, and would drive the lot of us around town.  We'd cruise out around the airport and back again as we all did our best to soak up what would be left of the summer. It was a scene not-quite out of Thunder Road, but one that plays that way in my imagination.
A few years later I had started my first band, and we had spent two weeks in a local studio cutting our first record. It wasn't fancy, nor would it win any Grammys, or sell any copies, but there weren't a lot of folks in my town who had actually wrote and recorded their own CD. Original music was key here – we always focused on playing our own music even though central NY audiences went for the cover bands. Original music here is a tough row to hoe. We'd work our tails off performing our own blend of folk & rock, but this town only paid for cover tunes. 
At that time I had a 1978 midnight blue Ford Mustang. It was freedom on wheels, even if I could only drive it in the summer. It was a 4-speed stick shift, with no power steering, seatbelts that barely functioned, no heat, rear wheel drive, got about 8 miles to the gallon, and when you went down hill you had to push in the clutch and rev the engine to avoid stalling out. But damn if it wasn't a good looking car.
Around this time, our local rock station 96.9 WOUR had a weekly show late nights on Saturdays called 'Local Licks' and like any good local band, we sent our record in hoping for some airtime. And I still remember driving in that '78 mustang when I heard our song come through the single working speaker on that car radio. It was exhilarating. We'd made it…as far as I was concerned. Even if it was at 11pm on a Saturday night, I got to hear one of my songs come out of that radio dial.