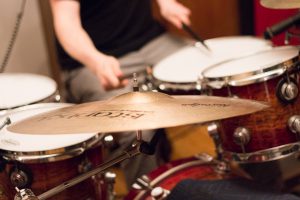 About a decade ago I was in a band called The Reuben James. We played mostly original music in a town that was much more receptive to cover bands (see the inspiration for 'Late Night Radio'). Nevertheless, over several years we managed to put out a handful of records independently that I'm still really proud of. 
When my wife heard the finished version of 'Come Hell' her first remark was – 'That's a Reuben James tune.' It does have that kind of a vibe.
This is another story song, or at least my attempt at it. It's the typical 'meet someone at the bar' story, but neither know quite what to make of the other. But I also think that there's a little commentary on people's unwillingness to commit to something – a person, a decision, or even making plans. FOMO (fear of missing out, doesn't work so well in a folk tune).
Come hell, come high water…
I'm gonna stick around….if you stick around
This is a song that was an orphan for quite a while – I was able to dig out a short demo from 2012 and it would be a few years before I was able to get the melody and instrumentation to where I wanted.